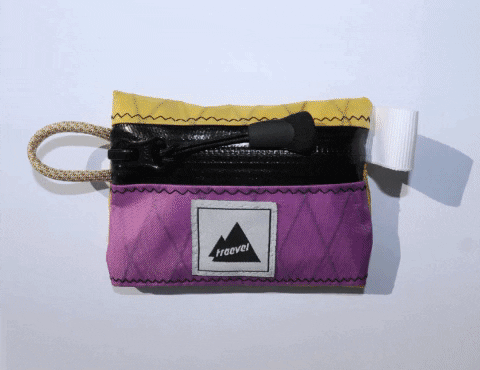 Dreaming of the perfect (bicycle) bag but can't find it anywhere?
We can make it for you. Any size, shape, color and details!
The concept of a custom bag can be super exciting if you know exactly what you want, or a bit confusing if you're still orientating. One decisive factor can also be its price. So, we've lined up some examples (at the bottom of the page) and price indications to help you shape your perfect bag!
Please bear in mind that pricing varies according to the complexity of the bag. And also that there are many more possibilties beyond what's shown below!
| Type of bag | Price indication |
| --- | --- |
| | |
| Bar bag | 70 |
| Fanny pack | 80 |
| Half-frame bag | 150 |
| Full frame bag | 250 |
| Trail wallet | 25 |
XPAC
We mainly work with xpac fabric, produced by Dimension Polyant. It is a unique product offering a lightweight, high strength, 100% waterproof fabric.
Diamond effect dacron fibres and a 0.25mm PET film are sandwiched between a 210 denier nylon face and a 50 denier polyester backing. A DWR (Durable Water Repellant) finish is also applied. The reverse of the fabric is off white which improves visibilty inside a pack.
Available colors are displayed on the left.
CANVAS
Oh the timeless charm of canvas! The rough aesthetics, and the versatility of canvas are a great playground we're currently exploring. Natural dyes and fossil-free waxing are in the making. We're so stoked about all the possibilities! So are you? Then stay tuned for updates on our progress.
And if you already have a clear idea of what you want from our pal Canvas, then drop us a message!
Readily available colors are displayed on the left.
If you already have a clear idea of your perfect bag, go ahead and fill the form below! Please specify the type of fabric (and colors thereof) you'd like, and the desired dimensions.
We'll get back to you as soon as we receive your submission for further details and prices.
In case you still have doubts, or don't know where to start, feel free to get in touch with us so we can design it together!